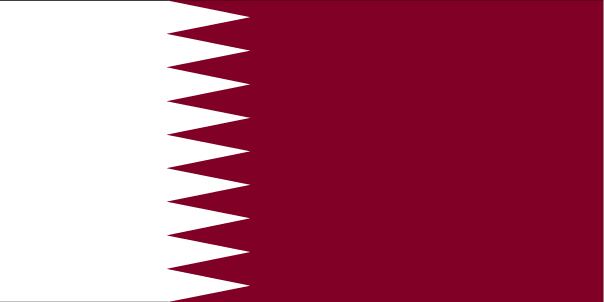 Flag description: maroon with a broad white serrated band (nine white points) on the hoist side; maroon represents the blood shed in Qatari wars, white stands for peace; the nine-pointed serrated edge signifies Qatar as the ninth member of the "reconciled emirates" in the wake of the Qatari-British treaty of 1916
note: the other eight emirates are the seven that compose the UAE and Bahrain; according to some sources, the dominant color was formerly red, but this darkened to maroon upon exposure to the sun and the new shade was eventually adopted

Definition: This entry provides a written flag description produced from actual flags or the best information available at the time the entry was written. The flags of independent states are used by their dependencies unless there is an officially recognized local flag. Some disputed and other areas do not have flags.
Source: CIA World Factbook - This page was last updated on January 20, 2018