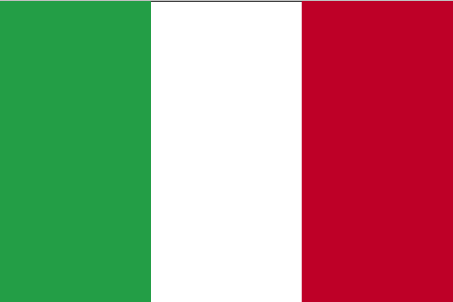 Flag description: three equal vertical bands of green (hoist side), white, and red; design inspired by the French flag brought to Italy by Napoleon in 1797; colors are those of Milan (red and white) combined with the green uniform color of the Milanese civic guard
note: similar to the flag of Mexico, which is longer, uses darker shades of red and green, and has its coat of arms centered on the white band; Ireland, which is longer and is green (hoist side), white, and orange; also similar to the flag of the Cote d'Ivoire, which has the colors reversed - orange (hoist side), white, and green

Definition: This entry provides a written flag description produced from actual flags or the best information available at the time the entry was written. The flags of independent states are used by their dependencies unless there is an officially recognized local flag. Some disputed and other areas do not have flags.
Source: CIA World Factbook - This page was last updated on January 20, 2018