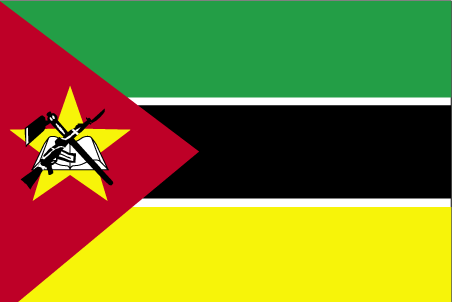 Flag description: three equal horizontal bands of green (top), black, and yellow with a red isosceles triangle based on the hoist side; the black band is edged in white; centered in the triangle is a yellow five-pointed star bearing a crossed rifle and hoe in black superimposed on an open white book; green represents the riches of the land, white peace, black the African continent, yellow the country's minerals, and red the struggle for independence; the rifle symbolizes defense and vigilance, the hoe refers to the country's agriculture, the open book stresses the importance of education, and the star represents Marxism and internationalism
note: one of only two national flags featuring a firearm, the other is Guatemala

Definition: This entry provides a written flag description produced from actual flags or the best information available at the time the entry was written. The flags of independent states are used by their dependencies unless there is an officially recognized local flag. Some disputed and other areas do not have flags.
Source: CIA World Factbook - This page was last updated on January 20, 2018