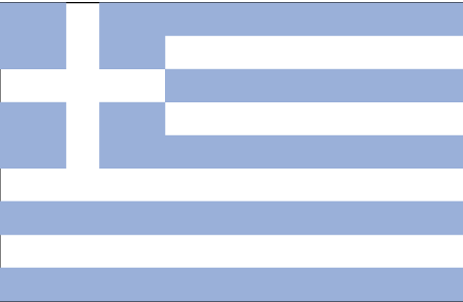 Flag description: nine equal horizontal stripes of blue alternating with white; a blue square bearing a white cross appears in the upper hoist-side corner; the cross symbolizes Greek Orthodoxy, the established religion of the country; there is no agreed upon meaning for the nine stripes or for the colors
note: Greek legislation states that the flag colors are cyan and white, but cyan can mean "blue" in Greek, so the exact shade of blue has never been set and has varied from a light to a dark blue over time; in general, the hue of blue normally encountered is a form of azure

Definition: This entry provides a written flag description produced from actual flags or the best information available at the time the entry was written. The flags of independent states are used by their dependencies unless there is an officially recognized local flag. Some disputed and other areas do not have flags.
Source: CIA World Factbook - This page was last updated on January 20, 2018