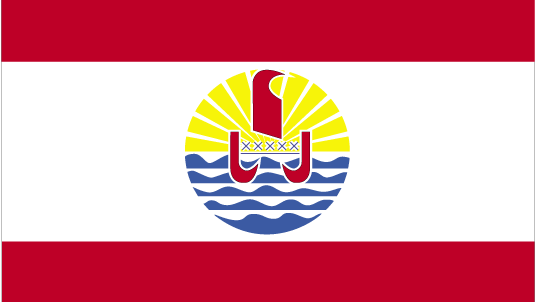 Flag description:
two red horizontal bands encase a wide white band in a 1:2:1 ratio; centered on the white band is a disk with a blue and white wave pattern depicting the sea on the lower half and a gold and white ray pattern depicting the sun on the upper half; a Polynesian canoe rides on the wave pattern; the canoe has a crew of five represented by five stars that symbolize the five island groups; red and white are traditional Polynesian colors
note: identical to the red-white-red flag of Tahiti, the largest and most populous of the islands in French Polynesia, but which has no emblem in the white band; the flag of France is used for official occasions
Definition: This entry provides a written flag description produced from actual flags or the best information available at the time the entry was written. The flags of independent states are used by their dependencies unless there is an officially recognized local flag. Some disputed and other areas do not have flags.
Source: CIA World Factbook - This page was last updated on Friday, November 27, 2020